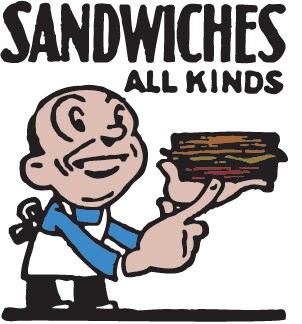 Start the spring off right with this delicious and healthy fresh veggie sandwich. Easy to make, fun to eat!
Ingredients
1 clove garlic, chopped
1/4 cup low-fat mayonnaise
1 teaspoon lemon juice
1 medium eggplant (about 1 pound), sliced into 1/2-inch rounds
2 large Portobello mushroom caps, gills removed

Olive oil cooking spray
1/2 teaspoon salt
1/2 teaspoon ground pepper
8 slices whole-wheat, ciabatta, or sourdough sandwich bread, lightly grilled or toasted
2 cups arugula, or spinach, stemmed and chopped if large
1 large tomato, sliced
Directions:
Preheat grill to medium-high.
Mash garlic into a paste on a cutting board with the back of a spoon. Combine with mayonnaise and lemon juice in a small bowl. Set aside.
Coat both sides of eggplant rounds and mushroom caps with cooking spray and season with salt and pepper. Grill the vegetables, turning once, until tender and browned on both sides: 2 to 3 minutes per side for eggplant, 3 to 4 minutes for mushrooms. When cool enough to handle, slice the mushrooms.
Spread 1 1/2 teaspoons of the garlic mayonnaise on each piece of bread. Layer the eggplant, mushrooms, arugula (or spinach) and tomato slices into the sandwich. Serves great with light tortilla chips and fresh guacamole.