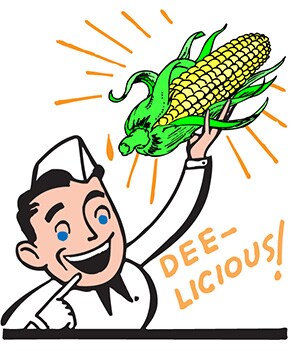 Corn is the perfect vegetable for grilling. Why? because it comes with its own built-in protective wrapper — the cornhusk! There is natural moisture in the green husks that helps to steam and smoke the corn until it's tender, sweet, and full of flavor.
Ingredients:
For the garlic butter:
- 12 tablespoons (1 1/2 sticks) unsalted butter, slightly softened
- 4 cloves garlic, coarsely chopped
- Salt and freshly ground black pepper
For the corn:
- 8 ears corn, silks removed but husks left on, soaked in cold water for at least 10 minutes
- 2 fresh limes, quartered
- 1/2 cup crumbled queso fresco or mild feta
Preparation
Garlic Butter:
Combine the butter and garlic with a mixer until smooth. Season to taste with salt and pepper. (The garlic butter can be made in advance, covered, and kept refrigerated up to 2 days, or frozen for a week. Bring to cool room temperature before serving.)
The Corn:
1. Heat your grill to high.
2. Place the corn on the grill, close the grill hood, and cook for 15 to 20 minutes, turning occasionally, until steamed through and hot but still crisp (test by carefully piercing with a knife). Unwrap the husks from the corn and immediately spread or brush with garlic butter.
3. Squeeze the limes on top and and sprinkle with cheese. Serve immediately.