There's nothing like homemade soup to warm you and your family up on a cold winter night.
Here's a fun and easy recipe that's sure to please.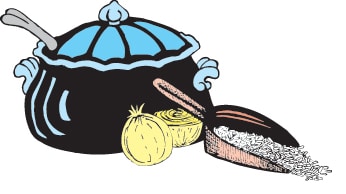 1 pound cubed beef stew meat
2 cups beef broth
1/4 cup all-purpose flour
1 tablespoon paprika
salt and pepper to taste
1 1/2 tablespoons teriyaki sauce
1 onion, chopped
3 carrots, sliced
1 stalk celery, sliced
2 potatoes, cubed
1/2 pound mushrooms, quartered
2 cloves garlic, minced
1 bay leaf
1. Place beef into a slow cooker. In a small bowl, mix together flour, paprika, salt, and pepper; sprinkle over beef, stirring to coat. Stir in beef broth, teriyaki sauce, onion, carrots, celery, potatoes, mushrooms, garlic and bay leaf.
2. Cover, and cook on Low 6 hours, stirring occasionally.
That's it! So easy. Best served with warm, hard-crusted bread, in front of a roaring fire.