Over 100 Bikes in 100 Minutes is the commitment by First Team Auto Mall for a special Toys for Tots drive this Saturday, December 12th starting at 10am with the U.S. Marines and K92 Radio.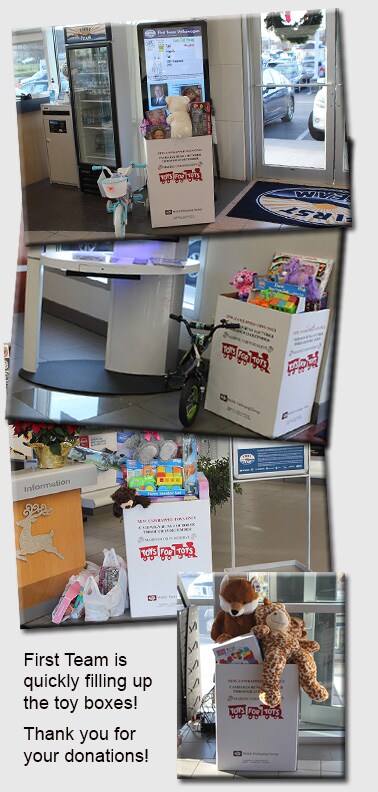 The appearance is a continuation of toy collection by K92 Radio and First Team to fill a large box truck with new unwrapped Toys. K92 personalities Danny & Zack have pledged that with First Team's help "the truck will be overflowing with toys to brighten the holidays of children in need in the Roanoke area". K92's Danny Meyers has shared with listeners, "First Team has been beyond passionate in helping children experience some joy and happiness this Christmas, whom otherwise would be without."
David Dillon, President of First Team Auto Mall stated "in the 2014 to 2015 Roanoke City School year there were over 600 Children that qualified as homeless and that does not even include the number of families that have shelter… but are living below the poverty line. We are glad that we have the opportunity to assist the Marine Corps Reserve in their goal to deliver, through a new toy at Christmas, a message of hope to less fortunate youngsters that will assist them in becoming responsible, productive, patriotic citizens. "
The Saturday, December 12th event will be at 6614 Peters Creek Road in Roanoke, between First Team Auto Mall and the Roanoke County Library. Event hours and collection will be from 10am to 1pm.
Donations will continue to be accepted through December 19th at the K92 Studio (3934 Electric Road, Roanoke) and at First Team Auto Mall (6520 Peters Creek Road, Roanoke). Cash donations may be made online by visiting the K92 website (www.k92radio.com).
For more information, contact Toys for Tots Coordinator, Corporal Ethan Howard at
540-295-0284 or roanoketoysfortots@gmail.com or K92 Promotions Director, Fredy Wright at 540-774-9200 or fwright@wheelerbroadcasting.com