First Team Subaru is proud to be a part of Subaru's "Love The Earth"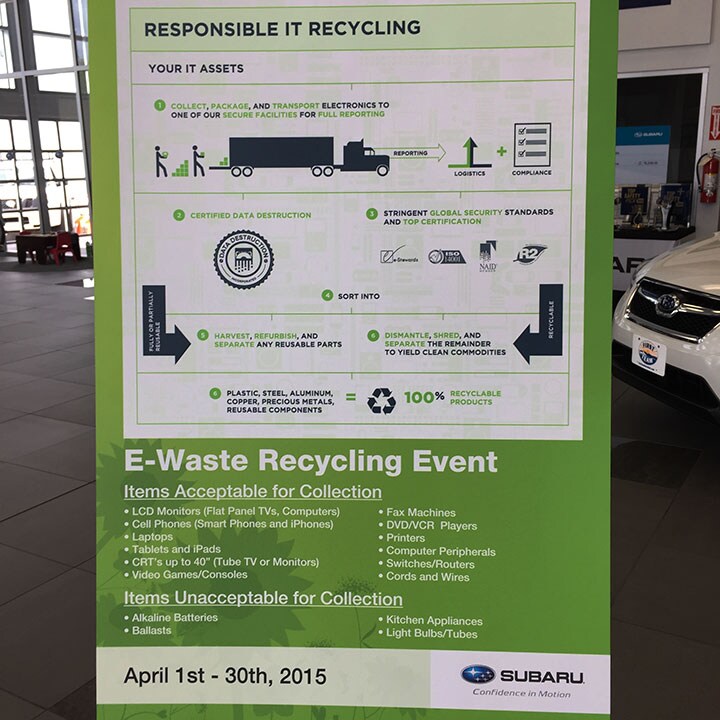 E-Waste initiative!
We're recycling items you don't use - and loving the earth at the same time. Update as of April 20: First Team has already collected over 200 pounds of e-waste! Thank you for your participation, and keep those old electronics coming! Remember, last day to drop off your e-waste is April 30th.
As part of the Subaru Love Promise, First Team Subaru pledges to actively preserve the environment. During the month of April, 2015, First Team Subaru will be a drop-off location for E-Waste items. Whether you have anything from an old cell phone to a computer monitor, you can drop it off at the First Team Subaru showroom and be sure it gets recycled properly, at no cost to you. By responsibly recycling this E-Waste, we will prevent toxic compounds from entering our soil and waterways. We invite our customers to join us in protecting our environment.
Subaru has teamed up with All Green Electronics Recycling, an industry-leading waste management company, which will collect the electronic waste at the conclusion of the event.
The first 50 customers who show up will receive a complimentary environmental badge of ownership. Simply bring in those unwanted items to our store, and we'll do the rest.
If you would like to drop off E-Waste items, stop by our dealership in the month of April during normal business hours. Check with one of our employees to notify them you would like to drop off and they will be happy to assist you.
E-Waste Event FAQs:
When can I drop off items for recycling and where?
Anytime during normal business hours from April 1 - 30th, at our dealership you can drop off items. When you visit, find one of our team members for details.
Are there items that are not accepted?
Yes, alkaline batteries, lighting ballasts, kitchen appliances (blenders, toasters, microwaves, ovens, refrigerators, etc.), light bulbs, and florescent light tubes unfortunately cannot be accepted.
Is my private data and information on my hard drive safe if I recycle them?
Yes, we will make sure that all private information is safe before and after dropping off at the E-Waste Recycling Event. Hard drives will be destroyed and otherwise made to be completely inaccessible as part of the recycling process.
What happens to the items I drop off to be recycled?
The items are dismantled and separated. Materials such as plastic, steel, aluminum, copper, precious metals, as well as any reusable components will be removed and recycled as appropriate. Items with private data, such as hard drives, are shredded or crushed.