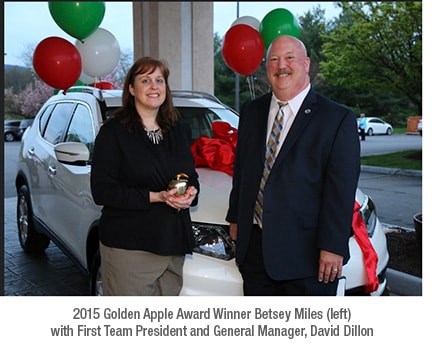 Each year, teachers from across Roanoke County Public Schools are nominated by students, parents, co-workers and administrators to receive the Golden Apple Award. This year, 64 teachers were nominated and 24 teachers were selected as semi-finalists.
For 2015, Herman L. Horn Elementary School fourth and fifth grade science teacher Betsey Miles was bestowed the honor of Golden Apple Award winner for her teaching excellence, with an award of $3000.
First Team is proud to support Roanoke County Public Schools by awarding
Betsey Miles
the use of a brand-new 2015 Nissan Rogue SV for one year, courtesy of First Team Nissan, with custom license plates that read GR8-TCR (Great Teacher).
"The education of our young people is so important, and that only happens with great teachers. We want to show educators in the Roanoke Valley that their efforts are truly appreciated," said David Dillon, President and General Manager of First Team Auto Mall.
The Education Foundation also named three Red Apple winners, one for the elementary school level, one for the middle school level and one for the high school level. Each Red Apple winner received a check for $1,500 each.
The Red Apple winners are:
Lynez Humphries - fourth-grade teacher at Mount Pleasant Elementary School
Tiffany Sakaguchi - Geometry and algebra teacher at Cave Spring Middle School
Brian Harris - Math teacher at Hidden Valley High School.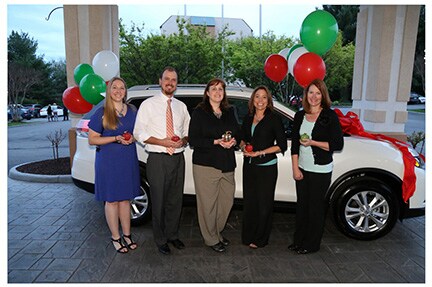 The Education Foundation also recognizes a new teacher who has taught in Roanoke County for three years or less. This is called the Green Apple Award.
The winner of the 2015 Green Apple Award is Krista Lyle, a third-grade teacher at Mount Pleasant Elementary School.
"We are extremely proud of all the teachers at Roanoke County Public Schools," said Education Foundation Board President Rob Hendren. "Golden Apple Award recognizes the best educator in the school system. We were very impressed with all our finalists, which made it very difficult for us to select a single winner," Hendren said.